Detalji
FLIGHT DUC380 CORAL CONCERT UKULELE sa torbom.
The color of mystery and an unexplored world. Where tunes and sounds like newfound species make their way out of the coral of imagination. This instrument will inspire as much as it enthuses you and those who listen.
This ukulele is a concert size instrument, which means you can strum or finger pick with ease and let it sing. There's a reason why many people buy concerts and that is the happy medium it brings between devoted strummers of the soprano and Hawaiian finger pickers. This instrument has the tools and wisdom to do both.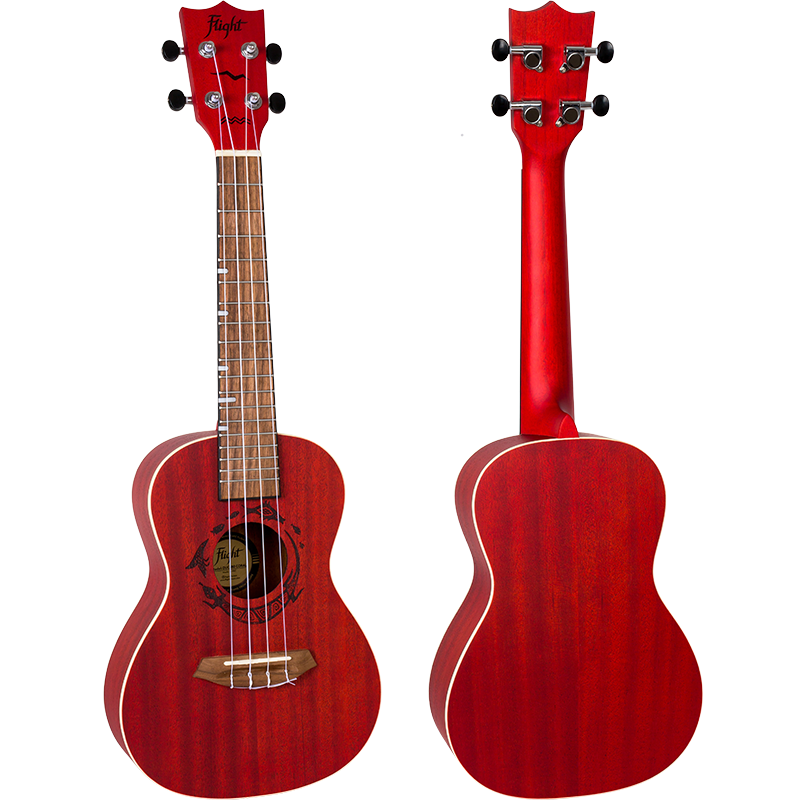 Let Your Music Take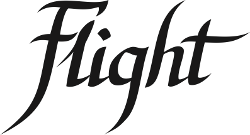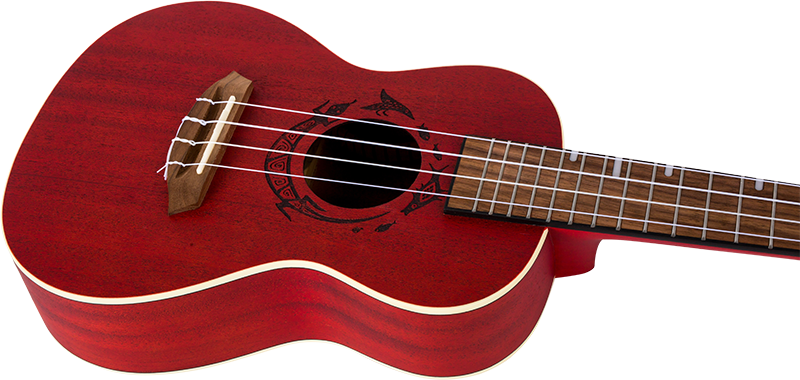 Golden Red Turns Deep Red.
The Flight DUC380 Coral Concert Ukulele is made of laminate mahogany. Mahogany is a hardwood which has been used to make quality musical instruments for centuries. It is known for its solid and punchy tone, with low overtone quality and good high-end response. It is highly resilient, and with that excellent resistance it is very stable and less likely to warp than many other species of wood.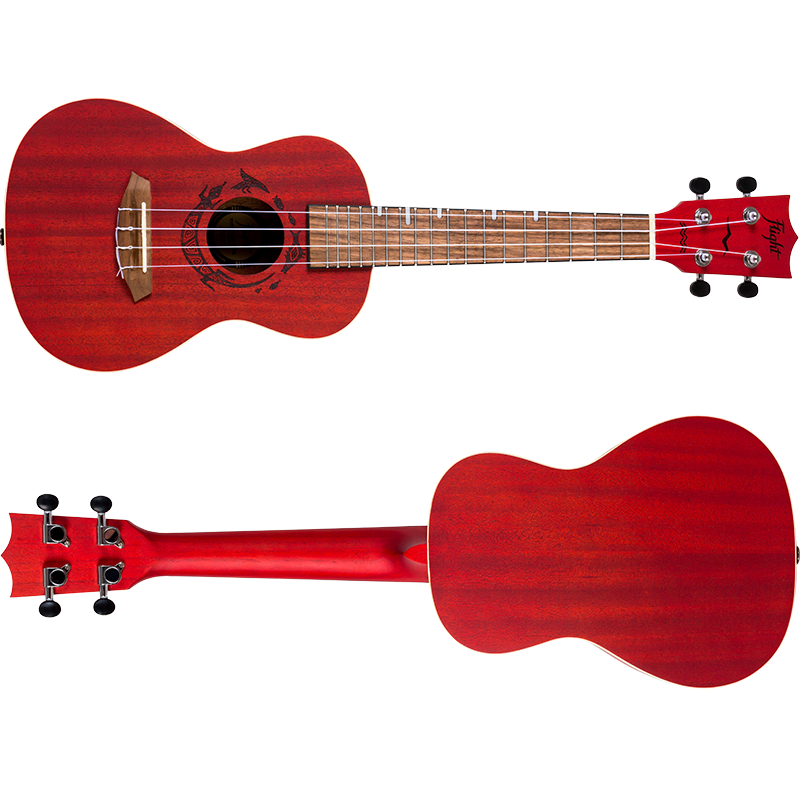 Let's play.
Okoume Neck & Walnut Fingerboard
The neck and fingerboard are made from African okoume and walnut wood. It's a great combination that guarantees a stable intonation across the fretboard. It's gentle to your hands, and looks great as well.
Fasten Your Seatbelt
Of course, it is good to learn how to play the ukulele without using a strap, but why not use a strap and you can have it both ways? A strap makes holding the ukulele easier so you can keep playing for hours. It also allows you to be 'hands free' between songs. We at Flight care about the comfort of our Flighters, which is why we started adding strap buttons to all Flight ukes!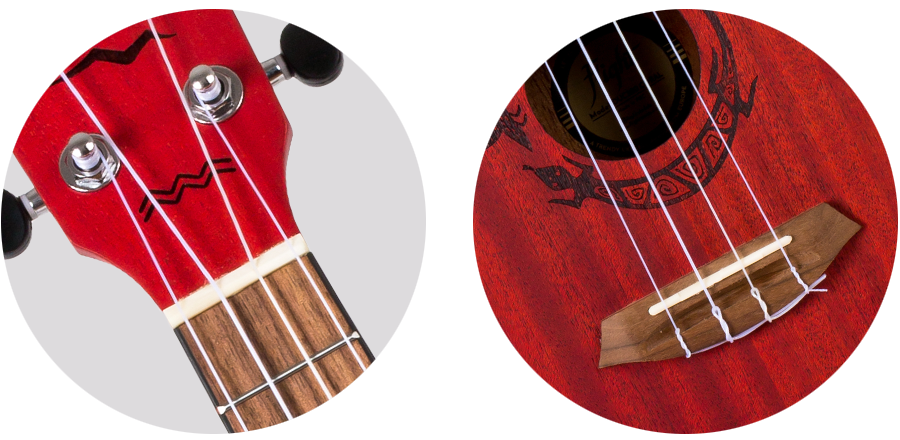 Pitch perfect quality.
The nut may seem to be a small component, but it plays a critical role in the overall sound of an instrument. The nut and saddle of this ukulele are made from bone (not from plastic), which results in better tone quality.
It all starts with the head.
Good-looking and easy to tune.
Headstock design is an integral part of our identity. All Flight ukuleles feature a carefully-designed headstock fitted with geared tuners that will always stay in tune.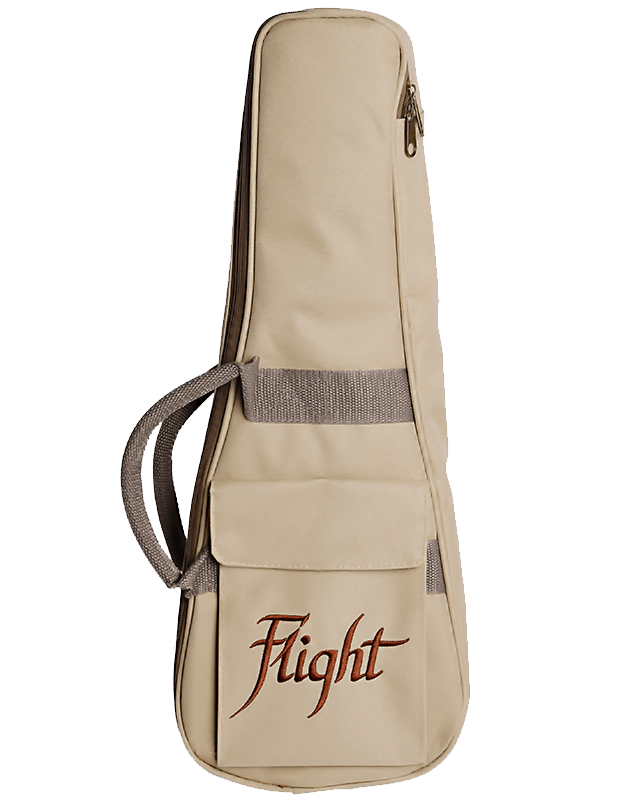 Light and Stylish Gig Bag
Excellent Protection for Your Uke
Light and stylish, yet offering excellent protection for your ukulele, Flight gig bags have already become legendary! With one hanging off your shoulder, you will definitely make heads turn.